How To Use Cyanotype Paper
Parallax shows you how to use Cyanotype Paper. Ready to go straight out of the packet. Just add sun and water.
Cyanotype Paper uses the most basic principles of photography to create images with just sunlight and water. The process is simple, an object is placed on light-sensitized paper then exposed to sunlight and an image is produced. It is a simple introduction to the photographic process without the need of a camera, demonstrating how light can create an image on paper in the same way it would on film or digital sensor.
The cyanotype process uses a mixture of iron compounds, which when exposed to UV light and washed in water oxidise to create Prussian Blue images. The technique was invented in 1841 by Sir John Herschel and was popularised by photographer and botanist Anna Atkins. Her book 'Photographs of British Algae: Cyanotype Impressions', published in October 1843, is considered the first photographically illustrated book.
Parallax Cyanotype Paper is available in 20 sheet and 50 sheet packs.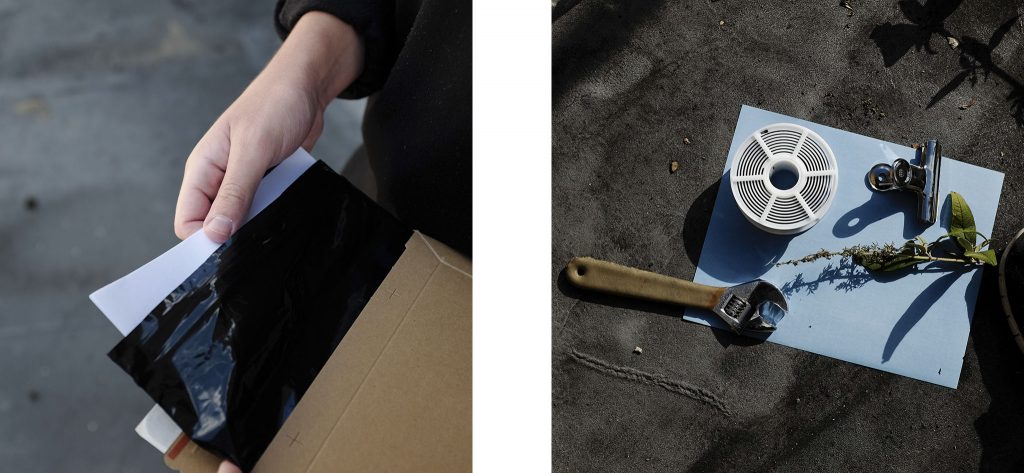 How To Use Cyanotype Paper
1. Collect some objects
The first step is to collect some objects. You will place these on your sheet of Cyanotype Paper to create your image.
2. Get The Paper Out
Now you need to take out a sheet of paper. Open the card envelope while out of direct sunlight. Inside you will find a black ziplock bag, open this and carefully pull out one sheet of paper.
3. Create Your Image
Next, Place the paper in direct sunlight and quickly arrange objects on the sheet. Alternatively, arrange the objects in a shaded area and carry into direct sunlight. You then leave the paper to expose. In bright sunshine it will expose in 2 minutes, on an overcast day it will take closer to 20 minutes. The paper will begin to change colour during exposure. The blue will fade and it will become very pale, signalling that it is ready.
4. Wash It
Finally, rinse the paper in water for 2 minutes and you will see the colours reversed. This will also fix your exposed image.
If you do not have water to hand place your exposed paper back in the packet to wash later.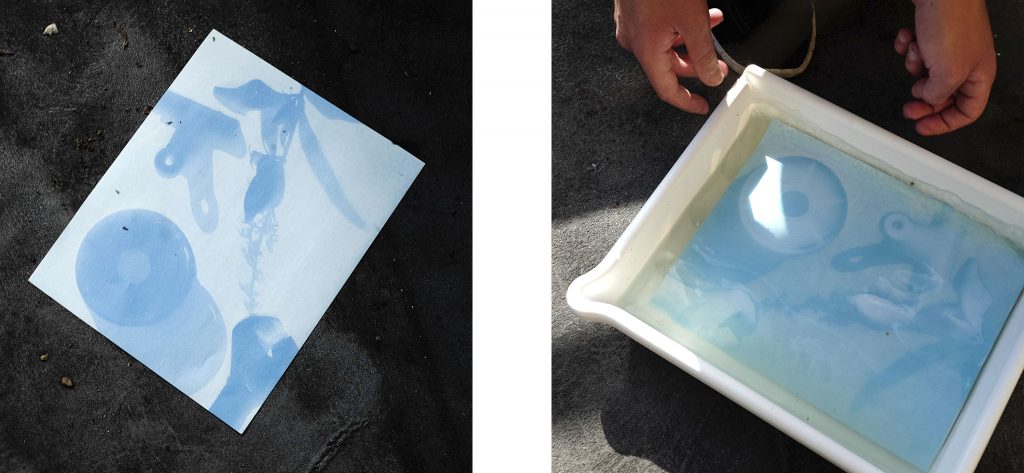 Tips
Find interesting objects. Flowers, plants, leaves, keys, glasses, scissors and anything with a distinctive shape works well.
Shield from sunlight. Try to keep the inner black bag inside the envelope when removing the paper to minimise any daylight affecting the unexposed paper.
Keep it flat. Lay a piece of glass or perspex over plants and flowers, it will give you a sharper image.
Handle with care. The paper is fragile when wet, handle carefully, holding it by the edges.
Digital Negatives. You can create a negative using digital negative film printed on an inkjet printer. Expose as above.
Time to weight. If your prints are curled after drying, they can be placed under a heavy object, such as a book, to flatten.
To find out more check out our instructions on How To Make Cyanotypes and How To Make Digital Negatives.
Explore
News • Guides • Community • Film Reviews • Film Developing Times • Choose Your Film